POTABLE (DRINKING) WATER TANKS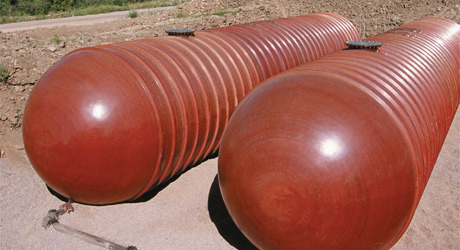 Large Capacity Potable Water Tanks Being Installed  
LARGE CAPACITY POTABLE (DRINKING) . . . UNDERGROUND WATER TANKS
 Featuring the Many Benefits of Fibreglass
PEACE OF MIND . . . IS OUR PROMISE TO YOU
A GREENTANK Fibreglass Water Tank, both by virtue of its Materials and its Design ... is Inherently the SUPERIOR CHOICE for SAFE, LONG-TERM Storage of Water for a ... Wide Range of Applications.
The BEST STORAGE SYSTEM for WATER 
IS ... STRUCTURALLY STRONG, CORROSION-RESISTANT, WATERTIGHT, EASILY INSTALLED and COST-EFFECTIVE.
All these elements come together in the Design and Manufacture of a GREENTANK Fibreglass Water Tank.
GREENTANK uses only High-Quality Resin and Glass in the manufacture of its Fibreglass Tanks.
Integral Ribs in the tanks add strength to the structure. Because the Integral Ribs and tanks are made of the same materials and are manufactured simultaneously, the result is an extremely Robust Tank.
Another common material used in tanks today is Concrete, in either the form of Precast Concrete or Cast-In-Place Concrete.
Precast Concrete Tanks are Heavy, and therefore can be Difficult to Ship and to Install.
When larger capacity tanks (approximately 20,000 litres and greater) are required, Precast Tanks are generally not available. Therefore, a cast-in-place tank is the only concrete option. Cast-In-Place tanks cannot undergo the careful quality control process that fibreglass tanks manufactured in a factory do.
This quality control is key to producing a Strong, Watertight Tank. The installation and proper curing of cast-in-place tanks can be very time-consuming, taking days or weeks, as opposed to the one-day installation typical for a GREENTANK Fibreglass Tank.
Since a GREENTANK Fibreglass Tank is significantly lighter in weight than comparably sized concrete tanks, a fibreglass tank is much Easier to ship and install. This is especially important for water applications because many of these tanks are installed in hard to access or even remote locations, or are at sites with limited excavation space, and the heavy equipment required to install concrete or steel tanks presents a problem.
Lightweight GREENTANK fibreglass tanks are ideally suited to a variety of water tank projects, whether the site is in a rural community, a remote location or the middle of a city.
Since water by nature can create a corrosive environment, it is likely that rust can be a major weakness in certain underground water storage systems. Unlike tanks made of other materials, GREENTANK Fibreglass Tanks are constructed of materials that are Inherently Rustproof. In contrast, to guard against corrosion or to provide compatibility with the water being stored, tanks constructed of concrete or steel may require internal and external coatings.
Of the tank options available for water storage, a Fibreglass Tank offers the best Long-Term Protection against Leakage due to both Internal and External Corrosion.
Not only is a GREENTANK Fibreglass Water Tank Rust-Proof, it is also Watertight. Easily equipped for on-site pressure testing before and after installation.
GREENTANK water tanks give owners the confidence that the tank is Watertight from the time it is installed.
          

CALL NOW ON

0800-476-865
      

T

O DISCUSS

YOUR

PROJECT