PUMP STATIONS & WET WELLS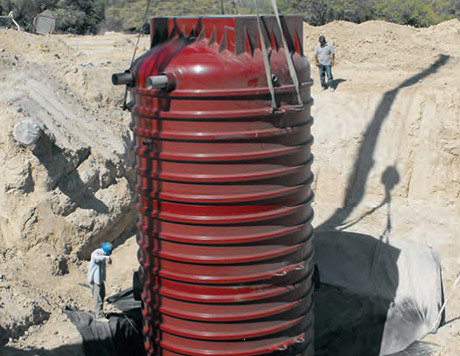 GREENTANK Fibreglass PUMP STATION being Installed  
PRE-PACKAGED FIBREGLASS


PUMP STATIONS & WET-WELLS

 
PEACE OF MIND . . . IS OUR PROMISE TO YOU

FINALLY a Cost-Effective ALTERNATIVE to CONCRETE Pump Stations and Wet-Wells.
DISCOVER how GREENTANK Pre-Packaged Fibreglass PUMP STATIONS & WET-WELLS solve ALL of the PROBLEMS associated with Concrete Pump Stations and Wet-Wells.   
GREENTANK is an Innovator in the Design and Manufacture of High Quality, Cost-Effective Fibreglass Products that help protect the fragile relationship between humans and their environment.
A long-time major supplier to the New Zealand petroleum industry GREENTANK knows how important it is to manufacture Underground Products that provide Safe Storage while Protecting the Environment.
In recent years, GREENTANK has brought its Expertise and Proven Track Record to the Water and Wastewater Industry, and today GREENTANK is a Trusted Supplier to this industry as well.
GREENTANK is constantly working to provide a Full Range of Products and Cccessories to each Industry it serves.
The Most Recent addition to the GREENTANK Water and Wastewater product line is ... the Fibreglass WET WELL and PUMP STATION.
THE PROBLEM:
Historically, Concrete Wet Wells and Pump Stations have been VULNERABLE to CORROSION and LEAKING.
YOUR SOLUTION:
GREENTANK Fiberglass Wet Wells are manufactured with Premium Isophthalic/Terephthalic Resin, which provides Corrosion Resistance.
The GREENTANK Fibreglass Wet Well comes in a range of diameters that are commonly used in Pump Station, Lift Station and Pump Vault applications.
Both options are manufactured of Long-Lasting, Rustproof Fibreglass. 
An already durable product becomes even more Robust with the addition of Ribs.
Like all GREENTANK products, the GREENTANK Fibreglass, WatertightWet Well is designed and manufactured for Long-Term Reliability, as well as for Easy Shipping and Installation. It requires No Maintenance.
Taken together, these Features make a GREENTANK Fibreglass Pump Station a SUPERIOR CHOICE to the traditional HEAVY Concrete Option, which often comes in Multiple Sections needing to be Field-Seamed.
This can be a Time-Consuming Installation Process, without ensuring Watertightness, and in the case of Potable Water Storage, a Concrete Pump Station or Lift Station usually requires the addition of a Costly Liner.
At GREENTANK excellence in service is as highly valued as excellence in product design and manufacturing. Greentanks' commitment to quality is the foundation of the strong, long-lasting relationships we have with our customers.
GREENTANK strives to provide prompt delivery and quality service, both economically and efficiently.
FEATURES AND BENEFITS OF GREENTANK WET WELLS AND PUMP STATIONS
Constructed of Long-Lasting, Rustproof Fibreglass
Constructed with Integrally Moulded Ribs that provide Structural Strength ... and Antiflotation Benefits
Manufactured to meet Specific Site Requirements
Designed and Manufactured with Antiflotation Flange
Manufactured with Premium Isophthalic/Terephthalic Resin
Available in standard diameters of 1.2m – 3.1m
Available in standard lengths of 2.4m – 11.0m
Available with a variety of accessories and piping options
Lightweight and Easy to Ship
Easy to Install
Requires No Maintenance
           TO DISCUSS 

YOUR

 PROJECT
            CALL NOW ON 0800-476-865  North Island
            CALL NOW ON 0800-476-965  South Island