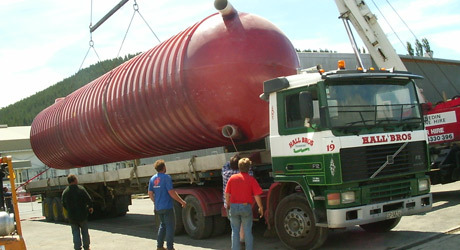 120,000 litre tank being prepared for delivery
FIBREGLASS . . . RAINWATER HARVESTING TANKS 
PEACE OF MIND . . . IS OUR PROMISE TO YOU
Today's Environmental Requirements are increasingly requiring Strong and Effective ... WATER CONSERVATION SYSTEMS.
GREENTANK Fibreglass Tank Systems are the PERFECT ALTERNATIVE to .... PRE-CAST or POUR-IN-PLACE CONCRETE TANKS and SUPERIOR to ROTO-MOULDED PLASTIC TANKS.
ADVANTAGES
WATERTIGHT DESIGN - with the option to field pressure test before and after installation
LARGE CAPACITIES - available in one-piece factory manufactured sizes from 2,500 to 150,000 litres.
QUICK and EASY INSTALLATION - Installed and backfilled in a day or two versus weeks of site construction for a pour in place concrete tank.
APPLICATIONS
RAINWATER HARVESTING
Chiller Unit Condensation Collection
Greywater Recycling Systems
Stormwater Retention
Fire Protection
             

CALL NOW ON

0800-476-865
          TO DISCUSS

YOUR

PROJECT